Last night I was with some good friends and watched the Golden Globes. It was a great time! Although many articles are saying Ricky Gervais was too harsh on his hosting duties, I truly think the show was hilarious! There is a reason he hosted two years in a row!
Well, with some of the people on the Daniel Fast, we decided to make a Vegan Pesto Pizza that was seriously the BEST pizza I have ever had! I got the recipe from Angela Liddon of Oh She Glows. This is the first recipe I have made from her blog but I cannot wait to try more!
You can see the post of the Pizza recipe here.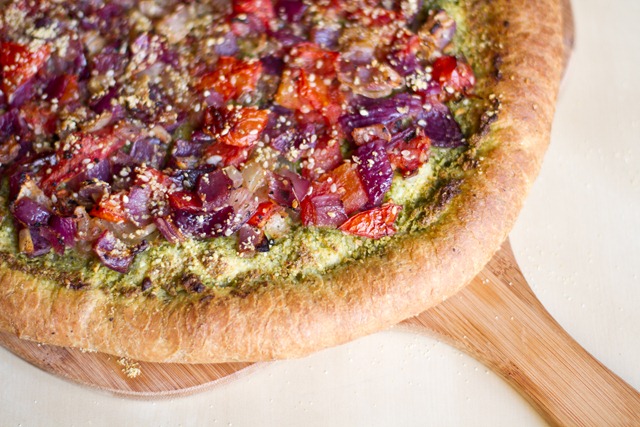 1) We had a pre-made pizza crust (100% whole wheat tastes the best) 2) Cover the crust with some EVOO and garlic and then smother with pesto. 3) Cut up some onion, tomato and basil leaves. 4) Put the cut up veggies in a baking pan with some EVOO and garlic and roast it in the oven. 5) Put the roasted veggies on top of the pesto. 6) Cook the pizza and ENJOY!
I didn't know healthy could taste this good!!